[Japanese Version]
TSUBAYA KASHIHO
(JAPANESE CONFECTIONER)
[ Home Page ][ About Tsubaya ][ What's new ]

[ Shopping ][ Contact ][ Map ]
Detti Yohkan
Each full of case 1260yen
---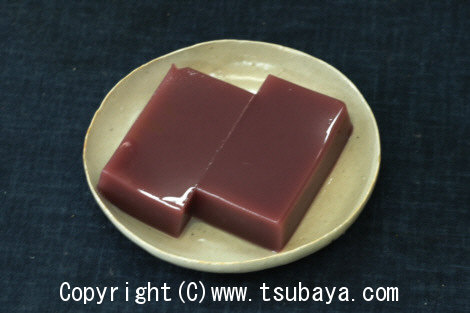 -----This is a Standard version       
A kind of "soft adzuki-bean jelly" anded down through generations from both in Iga and Koga districts, where the most famous two Ninja goups (Iga ninja and Koga ninja) orignated. However, products in Iga are much "softer" than ones made in Koga. "Detti-yokan" made and sold by Tsubaya are known to be the most excellent of the Iga products because of its "pleasantness to pallate" . The reason for the pleasantness to pallate comes from "the premium bean jam" and "the premium granulated sugar".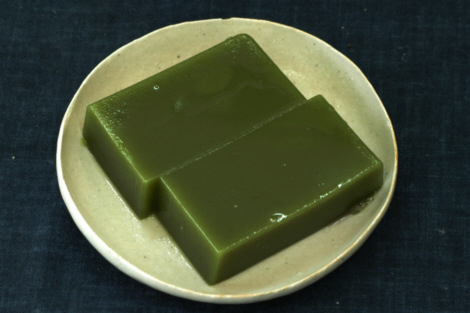 This is a Green Tea-Flavored version ----
Further, we devised "our original" powdered green tea-flavored detti-yokan which is made by dissolving plenty "chlorella-containing powdered tea" in "the premium white bean jam"
Origin
As for the origin of the product and its name are not known today.  
Presumably, this cake was the first cake that apprentices (detti) 
use to make.  Another presumption is that this cake was likely to
be made unintentionally when he failed in making "sweetened paste 
of beans". 
How to taste:
First, remove the cap of the case of the detti-yokan.
Erect the case, and peel four sides of the case of the detti-yokan
itself.
After the four sides of the cake are peeled, put the detti-yokan and
its case on a chopping board or the like with the case upside, and then
remove the case.
Cut off a desired amount of detti-yokan to eat, and move to a dish or the like.
Cover the remaining part of the cake with the removed case, and turn the chopping
with the detti-yokan and its case, upside donw.
Finally, put the cap in place of the chopping board.
That's OK!!
---
---
---
This page Copyright(C) All Right Reserved TSUBAYA
383Hirata IGA-shi Mie-pref. Japan Postal Code 518-1422
TEL 0595-47-0029 (+81-595-47-0029) FAX 0595-47-0075 (+81-595-47-0075)
///If you want to call KURONEKO YAMATO, please call "Toll-Free:0120-01-9625" and see alsothis site.///