[Japanese Version]
TSUBAYA KASHIHO
(JAPANESE CONFECTIONER)

[ Home Page ][ About Tsubaya ][ What's new ]
[ Shopping ][ Contact ][ Map ]
---
KATAYAKI
11 - 525yen
28 - 1575yen
Made by Ozawa Confectioner LTD.
We deal in "Katayaki (hard baked cake)" traditionally made in Iga.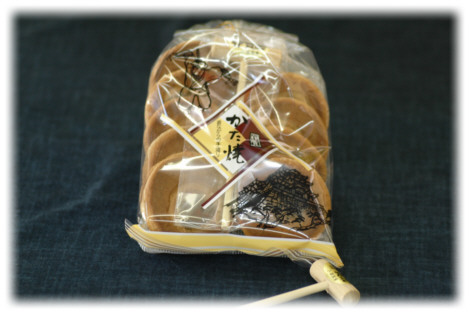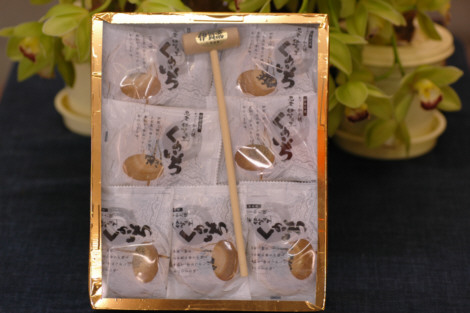 This cake is a sort of  "egg-flavored Japanese cracker"
which is very hard as expected from its name.
  In a sack of cracker,a miniature wooden hammer is
 enclosed for breaking Katayaki.
People who have a bad tooth should be very careful in
eating this cake.
Origin
Translation of excerpt taken from "Origin of Katayaki"

Our ancestors long lived in a village called Mita, located
north of Ueno-machi, in Iga, the provicne famous for its
military arts.  A special product suiting the province
was long desired.  One day, one of the ancestors was suggested by
the treasure of a sword guard (tsuba), and started
to sell a cracker named "tsubayaki (tsuba cracker)" .  This cake
is unique in that its hardness, which may be comparable to hardness of
iron in a sense, well represents bravery of Samurai's in Iga, and
its sweetness fully expresses the milk of human kindness of Sumrai's in Iga.
Fortunately, this cake enjoyed good reputaion, and came to be called "Katayaki"
from its hardness, ...
---
---
---
---
This page Copyright(C) All Right Reserved TSUBAYA
383Hirata IGA-shi Mie-pref. Japan Postal Code 518-1422
TEL 0595-47-0029 (+81-595-47-0029) FAX 0595-47-0075 (+81-595-47-0075)
///If you want to call
KURONEKO YAMATO
, please call "Toll-Free:0120-01-9625" and see also
this site
.///